Renu Nakhon is 52 kilometres south of Nakhon Phanom provincial capital, via Highway No.212 until the Km 44 marker, and Highway No. 2031. The town is best known for the Phu Thai ethnic minority who retain their ancient culture, namely in the form of dances and the custom of the Bai-~Sri~Su-Kwan welcoming ceremony. Many local products, including woven cotton, are on sale at local shops.

Phra That Renu
This was built during the early 1900s to resemble the larger Phra That Phanom, and to house sacred scriptures and golden Buddha images.

Phra That Phanom
This highly revered riverside temple is located 50 kilometres south of Nakhon Phanom provincial capital on High-way No. 212, and is believed to date back more than twelve centuries. The more than 50-metre-high pagoda is one of the most revered shrines in Northest Thailand and regularly attracts pilgrims. A museum within the compound houses many ancient relics.

Phra That Srikhun (Na Kae)
Some 55 kilometres southwest of the provincial capital this pagoda bears a strong resemblance to Phra That Phanom. The square base is decorated with bas relief.

Dan Sao Coi (Na Kae)
This scenic viewpoint 6 kilometres from Na Kae offers panoramic views of Phra That Phanom and adjacent areas.

Phra That Tha Uthen
This shrine, north of the provincial capital, along Highway No. 212, bears noted resemblance to Phra That Phanom. It was constructed in 1912 to house a Buddha disciple's relic which came from Yangoon in Myanmar (Burma).

Wat Triphum
This riverside temple in Tha-Uthen district contains the ancient 80-inch-tall Phra Bang Buddha image which, it is believed, needs only to be paraded around town to ensure plentiful rainfall.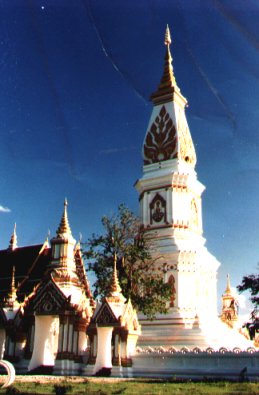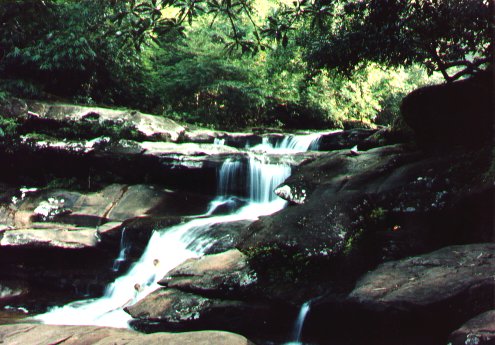 Phra That Prasit
This is in Wat Phra That Prasit, some 80 kilometres northwest of Nakhon Phanom provincial capital in Na Wa district.

Phu Lungka
92 kilometres northwest of Nakhon Phantom provincial capital, along Highway No. 212, and 6 kilometres from Ban Phaeng, this hill is where many streams originate. There are numerous wild flowers, orchids and trees.

Tad Kham Waterfall (Ban Phaeng)
This forest area marks the place where streams originating from Phu Lungka unite. The resultant river cascades through the multi-tiered waterfall.

Tad Pho Waterfall
2 kilometres north of Tad Kham Waterfall, this fall can be reached only after a 3040-minute walk. The fall can be seen from Highway 212.

Phra That Mahachai
42 kilometres from Nakhon Phanom provincial capital, along Highway 22 to Sakon Nakhon, this pagoda contains a relic of the Lord Bud&. A mural depicting the history of Buddhism adorns the walls of the ordination hall.