...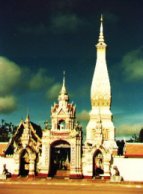 TAWAN NEWS 
<![if !supportLists]>· <![endif]>29/09/2000
NAKHONSARN
<![if !supportLists]>· 01/10/2000
Welcome to our new member
And very warm welcome to our DG.prasert Chaimano for visitting us on 29 Aug 2002
<![if !supportEmptyParas]> <![endif]>
.
NAKHONANOM
Nakhon Phantom is a north eastern province, bordering Laos across the Mekong River, and covering some 5,312 square kilometres. The riverside provincial capital is 735 kilometres north east of Bangkok.

Nakhon Phanom literally means 'City of Mountains', the Paine derived from rugged mountains behind the Laotian settlement of Tha Kack which faces Nakhon Phanom on the opposite bank of the Mekong River.

Laotian influences are seen in Nakhon Phanom's dialect, customs, architecture and cuisine. Many unique folk dances are performed on special occasions, and the custom of extending a generous welcome to guests can be seen during the Bai~Sri~Su-Kwan ceremony.

Nakhon Phanom's major religious monument, Phra That Phanom, is highly revered throughout northeastern Thailand and Laos.

<![if !supportEmptyParas]> <![endif]>
<![if !supportEmptyParas]> <![endif]>